Effort Revived to Save Major Pebble Plain Habitat in Big Bear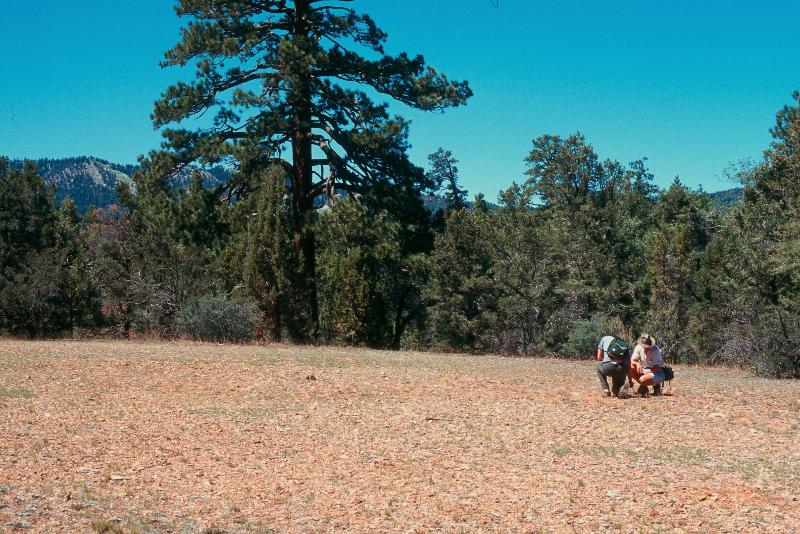 Botanists inspect rare miniature plant habitat on the Horseshoe Pebble Plain
The San Bernardino Mountains Land Trust has revived a major pebble plain protection effort in the Big Bear Valley, a project that previously eluded us in 2002. As seen in the picture above, pebble plains are unique open areas covered with miniature rare plants, which are found only in Big Bear and nowhere else in the world.
The Land Trust began looking for ways to protect pebble plains in 1998, following in the footsteps of the Nature Conservancy, which focused on this rare habitat in the 1980s. Professor Tim Krantz, Ph.D., of the University of Redlands, a biologist and leading pebble plain expert, first introduced SBMLT to what is regarded as the most prime example of this habitat. It is called the Sawmill Complex, a series of ridge plateaus in Moonridge.
Vision for a 714-acre Preserve
The Forest Service owns a 303-acre parcel that lies within the Sawmill Complex but is surrounded by private land. SBMLT is seeking to acquire two properties that sandwich the USFS parcel. One is 166 acres and the other 245 acres. Successful acquisition would not only protect the vulnerable Forest Service parcel, but also establish an overall preserve of 714 acres
All three properties feature some of the largest and most exceptional pebble plain habitat remaining. The Land Trust is collaborating with 20 other organizations and agencies, including the Forest Service and Department of Fish & Game, in the goal to conserve this area.
The Big Bear Valley Education Trust is spearheading the overall effort to promote greater public awareness, protection, and scientific study of this rare habitat that can only be found in a small part of our mountains.
What is a Pebble Plain?
Pebble plain habitat supports one of the most threatened and biologically rare plant communities in the San Bernardino National Forest. These plant communities are relics of the Pleistocene Age, when glaciers receded. The soil composition of quartzite pebbles (deposited over eons) subsequently prevented conifers from taking seed in certain areas of ridge tops, thus preserving the ancient habitat for many millennia. Three of the eleven primary pebble plain plant species are federally listed as Threatened. Special large sites, such as the 12-acre Horseshoe Pebble Plain, which contain all eleven of these endemic species together, are extremely rare.